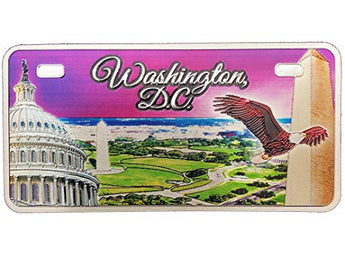 Washington DC Capital of the USA License Plate Purple Collage Souvenir Foil Refrigerator Magnet
Regular price $6.99 $6.99 Sale
Washington DC Capital of the USA License Plate Purple Collage Souvenir Foil Refrigerator Magnet
Washington D.C. refrigerator magnet is designed with the scenario of Washington D.C. on top of it the United States Capitol and bald eagle. We use 100% high quality magnet. As a result it will not fall easily. There is no fragile material in this souvenir magnet which makes it completely safe from fall damage. This will be a perfect gift for people who love Washington D.C. You can also gift it to your friends, brother, sister in occasion. You can also get this novelty magnet as your own souvenir collection. This product will certainly add beauty and emotion to your life.
Super-magnetic.
100% high-quality material.
Best souvenir gift collection.
Keep this as your own souvenir collection.
All of our gift items are backed by our manufacturer's money-back guarantee ensuring you receive a quality product free from defects.