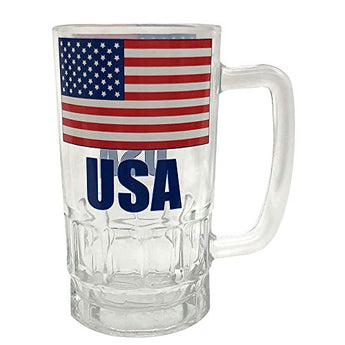 USA Large Patriotic Beer Mug 15oz USA Flag Etched Souvenir Beer Mug | 15oz USA Flag Beer Mug | Gift for Beer Lover | Perfect Souvenir Gift Collection
Regular price $14.99 $14.99 Sale
USA Flag 15 oz Beer Mug is a perfect gift. It can be an exclusive gift for your friend who is love to drink Beer on any occasions. Perfect as home drinkware, Souvenir or gift. These stylish 15 oz beer mugs are perfect in size to hold and drink beer smoothly. USA Flag 15 oz Beer Mug makes for quite a novel gift that you can use every day.
Best gift for birthday, anniversary, Valentine's Day, Father's Day and any other occasions. Also great for your personal collection or any celebration party. Perfect for your home and office drinkware.
the USA 15 oz Beer Mug.
Made in USA.
Dimensions: Dimensions: 4.00" X 3.00" x 2.00".
Weight: 15 oz capacity