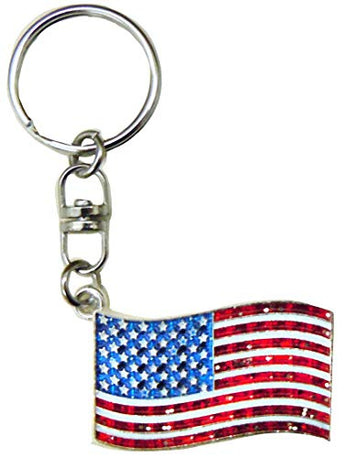 USA Flag Silvertone Keychain for Bag & Car Jewelry Accessory | Perfect Souvenir Gift Collection for Patriotic American or Military Veteran
Regular price $7.99 $7.99 Sale
USA Flag Silvertone Keychain. Set your keys apart with a custom keychain. Our keychain's sturdy clasp keeps your keys together securely and holds up well through daily wear-and-tear.
The keychain is the charm of fashion. It's fashion and charming design based on current popular pattern. Best gift for birthday, anniversary, Valentine's Day, Mother's Day and any other occasions. Great gift for all who loves USA. Also great for your personal collection or any celebration party. Perfect hanging decoration for keys, backpack, handbag, purse, with lanyards etc. Add more charm to your bag and car key ring. High quality metal, distinctive modelling and plated alloy chain.
USA Flag Keychain.
Made in USA.
Heavy-duty keychain set.
Solid stainless steel metal keychain.