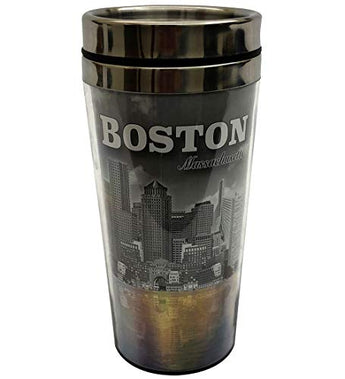 The City of Boston Massachusetts State Skyline Souvenir Travel Mug Stainless Steel Outdoor Insulated Mug
Regular price $14.99 $14.99 Sale
Boston Massachusetts State Skyline Souvenir Travel Mug Stainless Steel Outdoor Insulated Mug
Boston Stainless Steel travel mug for both Men & Women. Vacuum Insulated travel mug comes in color fabulas color. This travel mug will not leak water while storing somewhere. You can use this at home or workplace, during traveling or at playground.
We use 100% high-quality steel as a material, so it will not rust. This travel mug will keep your beverage at the perfect temperature for hours. This stylish Boston Steel Vacuum insulated travel mug is perfect in size to hold and drink smoothly in all situation. You can carry this everywhere. The printing will last long.
We provide the best quality to our customer. All of our items are backed by our manufacturer's money-back guarantee ensuring you receive a quality product free from defects.
Boston Stainless Steel Vacuum Insulated travel mug great for hot drinks in the winter and cold drinks in the summer
Long lasting 100% high quality steel as material
Makes a great gift to all people who love Boston
Manufacturer's Money Back Guarantee