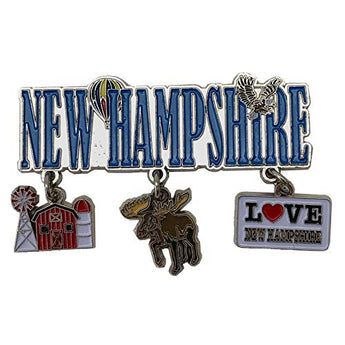 New Hampshire 3 Charm Magnet for Creative Home Decor Accessories Travel Perfect Souvenir Gift
Regular price $7.99 $7.99 Sale
We all like to bring something back home as a memory while setting off on a holiday. Many of our special memories made during holiday travels can be recalled by taking back a memento as a remembrance of the great time that was had. Missed out the opportunity to collect some souvenirs on account of your rushed journey ? No worries, We are here to provide you solid kind of souvenir that will pare down your regret!

Our magnets represents The Granite State New Hampshire at its finest. New Hampshire, one of this country's best state's, is known for its quaint towns and large expanses of wilderness, worth travelling for many other reasons. If you wish to collect a souvenir of this dignified state, our New Hampshire Refrigerator Magnet will surely satisfy you. Moreover, if you are from New Hampshire, this magnet is definitely a special one for you.

This wonderful souvenir Magnet is perfect for any traveler looking for a memento of this dignified state and for making a great gift for friends and family from other states! Anyone who collects magnet stickers or love New Hampshire will surely adore this Magnet. A perfect gift for to your loved ones, You can give it as holiday gift or birthday gift or can take it as a treat for yourself!
Specification:
Thick Construction, Small in size and durable
100% high quality Sturdy and Unbreakable metal made magnet
Anyone who collects Magnets or love New Hampshire will surely adore this magnet as a gift
Lovable State Magnet for the Collectors