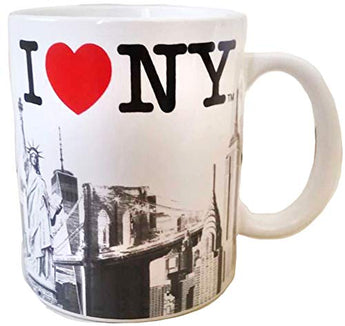 I Love NY City with Red Heart Skyline Souvenir Durable Heavy Solid Base 11 oz Ceramic Coffee Mug
Regular price $12.99 $12.99 Sale
I Love NY City with Red Heart Skyline Souvenir Durable Heavy Solid Base 11oz Ceramic Coffee Mug
This product is designed in a way that you will be amazed when you see it. The attractive design will not miss your eye. It can be an exclusive gift for your New York lover friends on their birthday or any other occasions like Hanukkah, holidays, birthday, your anniversary. We use 100% high quality ceramic as material. This mug is dishwasher and microwave SAFE! You can easily wash this mug and put it in the microwave to warm the coffee, tea or water.
Exclusive gift collection.
100% high-quality ceramic as material.
Keep this novelty New York ceramic coffee mug as your own classic collection.
All of our gift items are backed by our manufacturer's money-back guarantee ensuring you receive a quality product free from defects.