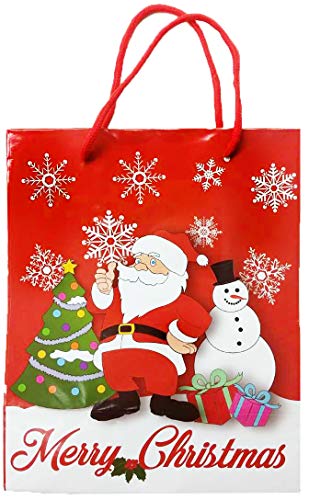 Citydreamshop Christmas Gift Bag: Deluxe Christmas Holiday Drawstring Gift Bag| Colorful Santa/Snowman Toy, Clothing & Book Gift Bag| Large Ecofriendly, Reusable Kraft Paper Gift Bag for Kids & Adults
Regular price $4.99 $4.99 Sale
Put A Wide Smile On The Face Of Your Loved Ones! A Stunning Christmas Gift Bag Will Make Their Gifts Irresistible!
Looking for a colorful Christmas gift bag for your kids stuffed toy, your best friends book or your sweethearts clothing gift?
Are you tired and sick of cheaply-made gift bags that get torn if you put inside something heavier than a silk scarf?
Well, we have news!
Citydreamshop has released a SUPER cute Christmas holiday gift bag for all your season gifts!
Feast Your Eyes On An Adorable Gift Bag for Kids & Adults!
Do you believe that wrapping is secondary when it comes to gift giving?
Time to reconsider!
A quality gift bag adds to the style of its content, turning a daily use or decorative item into an expression of your heartfelt emotions!
And this is exactly what we are offering you:
A glossy paper gift bag in 2 traditional designs, the Santa Claus & the Snowman, that will thrill kids & trigger sweet childhood memories in adults!
Why Choose Citydreamshop Holiday Gift Bags?
Quality-made from sustainable paper
Reusable & ecofriendly, limiting human footprint
Sturdy kraft paper & strong drawstring to resist weight
Uniquely bright colors
Adorable traditional design
Spacious, great for clothing, puzzles, jewelry, books, candies
Impeccable delivery condition
Irresistible to men, women & kids
Pick Yours & Spoil Your Loved Ones!
Choose your Santa or Snowman Christmas gift bag & show your love for a special person with an original Christmas Gift.
Or, even better, order both gift bag designs and treat your significant other, friend, son, daughter, parent or grandchild to a gift to remember!
Order Yours Today Risk-Free!
Click Add To Cart NOW While Supplies Last!
!